Sunshine Coast Fishing Charters, Seasons and Species
Posted on May 26 2013 by admin
Sunshine Coast Fishing Seasons
Fishing charters are available on the Sunshine Coast (Queensland, Australia) at any time of year. The offshore reef fishing is at it's best June through September when Snapper, Red Emperor and other mixed reef species are in season. The warmer waters in the summer and autumn months attract pelagic species including prized Spanish Mackerel. During this time fishing charters offer trolling trips or mixed trolling and reef fishing trips.
Other fishing events include the arrival of Tailor which migrate northwards to Fraser Island via Sunshine Coast beaches, estuaries and reefs in June through September. September and October also see larger Flathead landed - typically in the protected estuaries.
Some fishing charter operators drop Spanner Crabs dillies/pots on the way out to fishing grounds and check them on the way back to port. Note that the Spanner Crab fishery is closed from midnight 20 November to midnight 20 December inclusive.
Note that many of the species mentioned can be caught year round (subject to fisheries closures) and the times mentioned are when the species can be caught in greater numbers or quality.
Sunshine Coast Target Locations and Species
Most Sunshine Coast fishing charters target offshore reefs and/or pelagic trolling grounds. Target reef species include Snapper, Red Emperor, Pearl Perch, Tuskfish, Red Throat Emperor, Green Jobfish, Wrasse, Moses Perch, Morwong, Sweetlip and various species of sharks. Target pelagic species include Spotted Mackerel, Spanish Mackerel, Tuna, Mahi Mahi (Dolphin Fish), Amberjack, Samson Fish, Cobia (Black Kingfish), Yellow Tail Kingfish and Wahoo. Targeted offshore locations include Murphy's Reef, Gneerings Reef, Caloundra 9 Mile, Caloundra 12 Mile, Caloundra Wide and Barwon Banks.
Inshore/calm water locations around the Sunshine Coast include Maroochy River, Mooloolah River, Noosa River, Pumicestone Passage and associated estuaries. On these trips, target species include Trevally, Flathead, Bream, Mulloway/Jewfish, Tarpon and Mangrove Jack.
Sunshine Coast Fishing Charters and Trips
Established fishing charters with great reputations on the Sunshine Coast include Top Catch Fishing Charters - Sunshine Coast, Noosa River Fishing Safaris and Fish n Crab Fishing Charters - Sunshine Coast.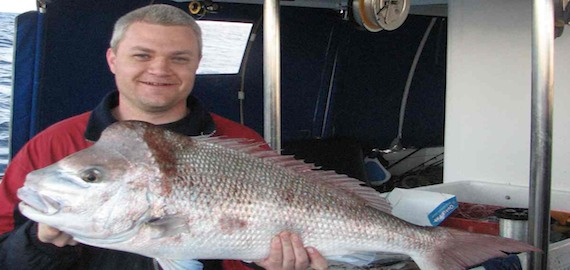 The only operator to offer overnight trips from the Sunshine Coast is Top Catch Fishing Charters - Sunshine Coast. Other operators offer half day, 3/4 day and full day trips. Groups sizes range from one to 22 anglers.
Fish n Crab Fishing Charters - Sunshine Coast drop Spanner Crabs pots, and offer to cook any caught Spanner Crabs on board. Top Catch Fishing Charters - Sunshine Coast also drop Spanner Crabs pots on the way out to fishing grounds.
Noosa River Fishing Safaris offer trips for up to three anglers into the calm water river and estuary locations. This option is worth keeping in mind when adverse wind and swell conditions do not allow offshore fishing charters to operate on offshore locations.
Cheapest Fishing Charters on the Sunshine Coast
The cheapest Sunshine Coast calm water fishing charter we know is Noosa River Fishing Safaris who offer a half day (4.5 hour) Noosa river bait fishing trips at $80 for adults and $50 for children (under 16). They take up to 12 anglers on that trip. Their specialised Noosa River sportfishing trip accommodates up to three anglers.
The cheapest Sunshine Coast half day offshore fishing charter option we know from the Sunshine Coast is Top Catch Fishing Charters - Sunshine Coast. Assuming 12 anglers for group pricing, their Monday - Thursday half day option costs $AUD101.25 per person. Mixed half day trip pricing is $140 per person. Fish n Crab Fishing Charters - Sunshine Coast half day five hour trips are also priced at $140 per person.
Departure Points
Departure points include The Wharf Marina at Mooloolaba and the Noosa River. Please check with the individual fishing charters.
Other Points of Interest
For a full list of Sunshine Coast Fishing Charters, see our Sunshine Coast Fishing Charter Directory.
All fishing charter guests are also subject to Queensland Primary Industries and Fisheries bag and size limits. All local fishing charter skippers and operators are fully familiar with all rules and regulations and will ensure you keep on the right side of the law.
If you are looking for a place to stay try wotif.com for Sunshine Coast accommodation.