Gold Coast Fishing Charters, Seasons and Species
Posted on September 03 2012 by admin
Gold Coast Fishing Seasons
It is possible to fish on the Gold Coast at any time of year. The offshore reef fishing is at it's best June through September when prized Snapper and other reef species are in season. The warmer waters in the summer months attract pelagic species. During this time many fishing charters offer trolling or combinations of trolling and reef fishing. Game fishing is also at it's peak at this time, particularly December and January.
Other fishing events include the arrival of Tailor which migrate northwards through Gold Coast beaches, estuaries and reefs in June through September. September and October also see larger Flathead landed - typically in the protected estuaries. Note that many of the species mentioned can be caught year round, and the times mentioned are when the species can be caught in greater numbers or quality.
Target Locations and Species on the Gold Coast
Most Gold Coast fishing charters target offshore reefs and/or pelagic trolling grounds. Target species on these trips include Snapper, Pearl Perch, Cobia, Spotted Mackerel, Spanish Mackerel, Marlin, Tuna, Mahi Mahi (Dolphin Fish), Amberjack, Samson Fish, Kingfish, Pearl Perch, Wahoo and various species of sharks.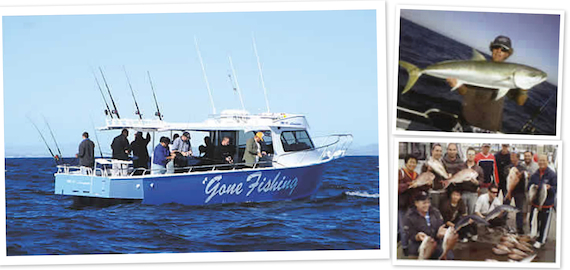 Half, three-quarter and full day offshore fishing charters trips are available. Established fishing charters with great reputations that fall into this category include Discovery Fishing Charters - Gold Coast, Reel Adventure Fishing Charters - Gold Coast and Gone Fishing Charters - Gold Coast for which we have received five stars (from five) angler rating.
No overnight trips are available from the Gold Coast arguably with one exception. Jumpinpin Fishing Charters offer overnight fishing charter trips to ensure maximum fishing time. The offshore reefs they target off the northern Gold Coast overlap with the reefs targeted by the day trip fishing charters.
Anglers on game fishing charters would typically target Blue Marlin. Bill Billson is a renowned Marlin fisherman and has more than 30 years experience fishing for Marlin. He operates Australian Marlin Charters - Gold Coast in December and January. He also offers a yearly transfer trip from the Gold Coast to Cairns - surely a once in a lifetime experience. For information on all these trips and more see Australian Marlin Charters - Gold Coast trips.
Calm water locations around northern Gold Coast including Broadwater where rock wall and estuary fishing is on offer. On these trips, target species include Trevally, Flathead, Bream, Jewfish and Mangrove Jack. Groups sizes range from 2 to 10 anglers.
The Gold Coast has a large network of residential canals in which species such as Trevally, Flathead, Bream, Whiting and Mangrove Jack are prevalent. Brad Smith's Guided Fishing Charters specialise in taking small groups of two into these fishing locations. This option is worth keeping in mind when adverse wind and swell conditions do not allow offshore fishing charters to operate on offshore locations.
Best Priced Fishing Charters on the Gold Coast
The cheapest half day offshore fishing charter option we know from the Gold Coast is Discovery Fishing Charters (Gold Coast). Adults are $AUD120 and children are $95.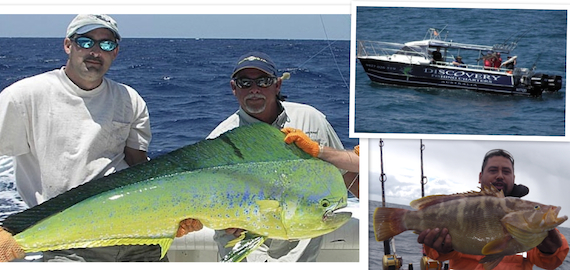 The best priced full day offshore Gold Coast fishing charter option that we know is Reel Adventure Fishing Charters (Gold Coast) at $195 for a nine hour fishing charter. They supply Shimano overhead reels all spooled with braided line and all on quality Penn and Shimano Rods. Reel Adventure Fish also include soft drinks, water, morning tea and lunch on their full day fishing charter.
The cheapest Gold Coast calm water fishing charter we know is Gone Fishing Charters (Gold Coast) who offer $95 for adults and $85 for children.
Departure points
Most fishing charters depart the protected waters of the Gold Coast Broadwater. Departure points within the Broadwater include Marina Mirage, the boat ramp near SeaWorld and the jetty on Waterways Drive near the Gold Coast Highway at Southport. Some operators, including Gone Fishing Charters (Gold Coast) offer hotel pickup in Surfers Paradise, Broadbeach and surronds. Reel Adventure Fishing Charters (Gold Coast) depart from Surfers Paradise from the jetty near Tiki Village International Resort on Ferny Avenue, which is very handy for those staying in Surfers Paradise.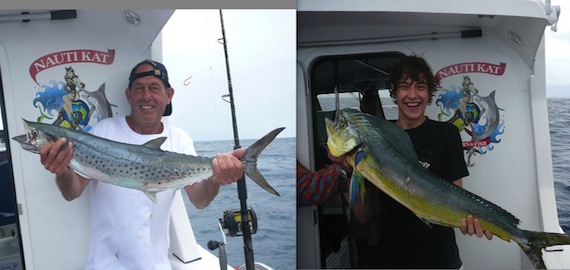 Other
All fishing charter guests are also subject to Queensland Primary Industries and Fisheries bag and size limits. All local fishing charter skippers and operators are fully familiar with all rules and regulations and will ensure you keep on the right side of the law.
If you are looking for a place to stay try wotif.com for Gold Coast accommodation.