Fishing Montague Island with Island Charters Narooma
Posted on December 01 2015 by admin

My wife had the idea to snorkel with the seals on Montague Island, about 10kms offshore from Narooma NSW. Narooma is a magnificent coastal town about 4.5 hours drive south of Sydney. We were impressed by many of the vistas around town, many of them featuring Montague Island in the background.
We called Island Charters Narooma a few times with complicated family scenarios, and we traversed many topics - complicated yet again by shifting wind forecasts. Chris, the owner and skipper, fielded our numerous calls and was very forthcoming with suggestions. I was one of "those" customers with a million questions trying to make sure the family had a comfortable and fun day. We certainly appreciated all the time Chris contributed to planning our day out. It turns out he helped us plan what turned out to be fantastic family day on the water.
The big day had arrived - the 8am departure was easy. The steam out was comfortable. The big challenge was trying our best to ensure my son's first offshore fishing experience a great one. With Chris at the helm and Matt running the decks, my son was amped up and ready to go. Chris and Matt were onto it - they went out of there way to make a big deal of my son's first trip.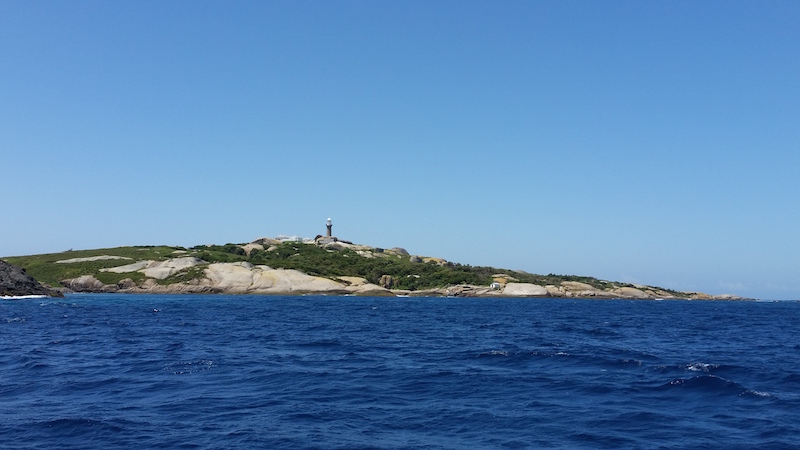 We fished in about 30m of water of the northern edge of Montague Island. First we fished lighter rigs and landed Squire and Sweep. We soon lost a paternoster rig to a bigger fish. The first drop of a heavier rig resulted in a Yellowtail Kingfish. For a 70cm fish it put up a great fight - it took a fair bit of line four or five times before coming into the boat.
Chris was non-stop moving the boat into prime position to ensure the next drift was right over the pick of the fish. Conditions weren't the best as the northernly wind ramped up earlier than predicted, but that didn't stop Chris trying his best.
Island Narooma Charters operate a boat dubbed "Dallas". She is a 10.2m Savage fibreglass vessel that accommodates up to 12 guests (anglers, divers, snorkelers and sightseers. I enjoyed the large deck space, plentiful shade and the really effective spray curtains that kept the spray out of the boat on the way home.
Note Island Charters Narooma also do snorkel with the seals trips, scuba diving, whale watching and "mixed adventure" trips. We actually did a "mixed adventure" trip combining a snorkel with the seals and the offshore fishing. Turned out to be a great move.
The fishing gear was also great. There was always spare rigs - both heavy and light gear. We used squid for bait which was always at hand.
After dropping a couple of bigger fish and throwing back some "just under legals", Matt the deckie was on. Five minutes later he landed the biggest Yellowtail Kingfish of the day. And that was lucky for him as his wife told him to not come home unless he had fish. Matt now had a spring in his step as he'd avoided a night in the dog house, or at least an expensive stop at the local fish shop.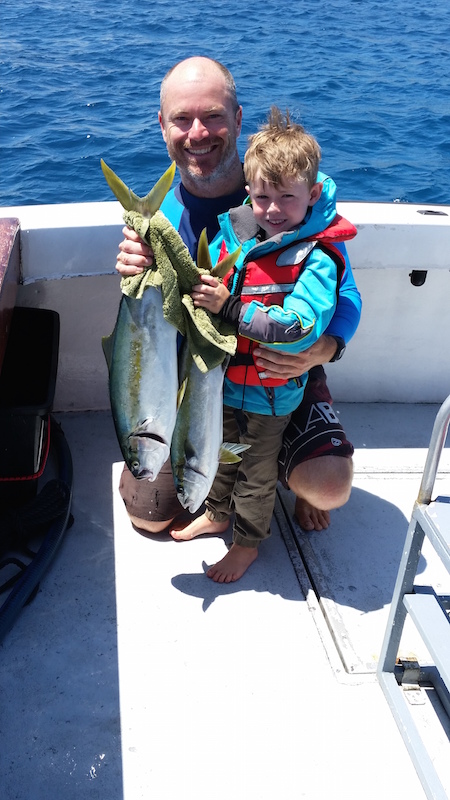 And my son was over the moon with his first offshore fishing trip - mission accomplished. I'd only taken him estuary and beach fishing until now. He learnt the ropes quickly, got involved in the fishing and cheered us on with the bigger fish. He'd only just turned five years old and was a little champion. And Chris gave him a tour around the cabin just to really blow his mind! Thanks to Chris and Matt for floating *his* boat. He is now proudly showing his family and friends the pictures of those Yellowtail Kingfish. And yes the fish get bigger with every instance of the story.
In summary I'd recommend Island Charters Narooma. The were very helpful both before and during the trip. The equipment and boat was spot on, and Chris was obviously in tune with the conditions and the whereabouts of the fish.
Contact Chris for more information about Island Charters Narooma and their Montague Island/Narooma fishing charter trips.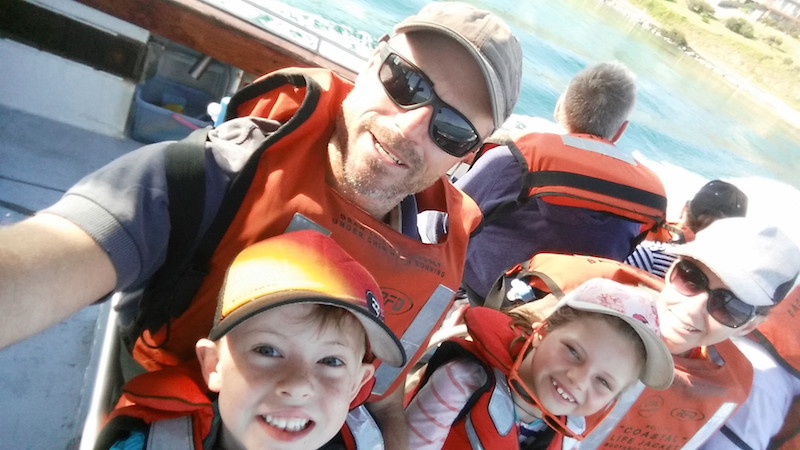 Thanks
Gary